Going the Distance
to Find Great Coffee
By regularly traveling to coffee-growing countries, we can offer you some of the very best coffees in the world.
Relationships Matter
Transcend's business model is built on real relationships with the people who grow, harvest, process, source and ship green coffee.
Shop coffees by category:
Central America | Africa | Espresso | Decaf
Willing to Commit
We've partnered with some farmers for four years or longer. We consider them friends, not just suppliers.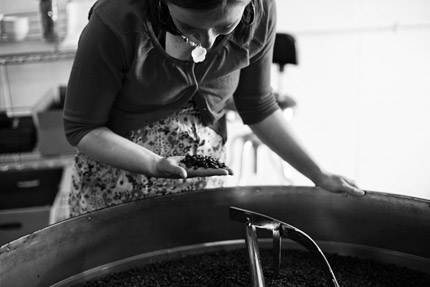 Meticulously Roasted
Roasting in small batches and paying attention to every detail gently coaxes the complex flavours out of the beans and into your cup. More on how we roast.
Vintage Iron
Our 1950's Probat roaster was retrofitted specifically for Transcend. The old cast iron is more thermally stable, and that means tastier coffee for you to enjoy.
Impeccable Standards
We cup — professionally evaluate — every single roast to be certain that you're getting only the highest quality coffee, every time.

Ready to get your brew on? Browse Beans.
Certified Expertise
Transcend's founder, Poul Mark, is a licensed Q Grader, The Coffee Quality Institute's professional accreditation for evaluating green and roasted coffee. More on quality standards.
Made in Alberta
Transcend ships orders across the country every day, but we were born and raised on the Alberta prairies. We're proud to live and work in Edmonton and we partner with and support local businesses as much as possible.
Fast, Free Shipping
All orders are expertly packed and usually ship same-day or next-day. Shipping is always free for orders over $48 going to Canadian addresses.
First-Class Service
If you have a special request, just ask! Our shipping manager Bonnie is always happy to help.
Happy Customers
It must be something in the coffee.